Due to a hectic schedule, this was a rather laid back week in the preschool department. My mom always said flexibility was one of the best aspects of homeschooling. Even though I don't think we're "homeschooling" quite yet, the flexibility of doing things at home rather than having to take Riley to a preschool is nice. I had some neat activities planned and we accomplished a few of them, but I think we're going to stick with the same theme next week to make sure we've got it all down.
This week's theme was Birds. Riley will readily point out any and all capital Bs that we might see when we're out and about and shout happily, "FOR BIRDS, MOMMY!!! B FOR BIRDS!!!" We also stuck with the same verse from last week (Colossians 1:16 - For by him all things were created...) since she didn't have it down all the way. Our shape was an oval and our color was red. I chose ovals since that's kind of the shape of eggs and I justified choosing red since cardinals are red and robin's have a "red" chest. Riley confuses orange and red quite a bit so I wanted to spend some time focusing on a color she needs work on.


This week's activities involved a lot of fingerprints. We did branches and trees with fingerprint leaves and birdies in the tree. We had thank you notes to write so we even did mini versions on note cards - super cute! Riley absolutely loves using small ink pads to make fingerprint art! After we do our planned craft, I always let her sit at the table and stamp away. It occupies her for a good 30 minutes.
To work on the color red, I went through some old magazines and cut out red items or letters. David and Riley glued them on her "red collage" after dinner one evening. It was adorable watching them work so hard on it. Riley would tell David where to put the glue and she would stick the pictures on with her chubby little fingers. Being able to watch them while I worked certainly made doing the dishes much more enjoyable.
As I mentioned earlier this week, we made bird squirrel treats. They are super simple and look nice hanging in the trees! In case you want to attract your own critters (hopefully yours will summon birds and not rodents), here's how we made them:
Supplies:
Bread
Cookie cutter
Peanut butter (I've heard you can also use Crisco)
Birdseed
Yarn
Yarn/tapestry needle
Directions:
Use your cookie cutter to make shapes from your bread. We used a heart because those are the only cookie cutters we have (we're a drop cookie type of family). I left the bread out on the counter overnight so it would be nice and dry the next morning. Before we spread the shapes with peanut butter, I used the tapestry needle to thread the yarn through. After spreading the shapes with peanut butter (and having my assistant take a few tastes), Riley sprinkled birdseed all over the hearts. We then headed outside to hand them in the tree outside Riley's window.
I thought they looked pretty cute hanging in our trees. Too bad the squirrels were crafty enough to get to them and eat them before they had the opportunity to attract any birds. We're going to try them again next week and tie them to a decorative flagpole in our yard. I don't think any furry creatures will be able to climb that, but we shall see.
Even though we didn't get to as much as I had hoped, we had a great week. We're looking forward to continuing on with this theme next week.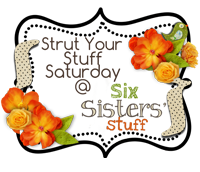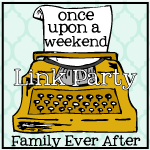 Saturday Show and Tell at Cheerios & Lattes
Saturday Show and Share at I Can Teach My Child