With all that's been going on around here (my brother's commissioning and graduation, costume party and baby shower at church, and an unexpected trip to Alabama), preschool temporarily got pushed to the back burner. Due to the chaotic schedule, we stuck with birds for three whole weeks. On the up side, Riley said her verse (For by him all things were created... Colossians 1:16a) all by herself on Thursday night. I actually missed it, but David and Riley gave me a call to give me the good news.


Even though it took a few weeks to get to everything, we did fun activities and had some good discussions about birds. Riley has seen a bird's nest in the tree in my parents' front yard (complete with eggs and all), but I'm not sure she actually remembered much about it. We didn't find a nest this week, but we did "make" one. As we glued our branches, leaves, and yarn to the paper plate, we talked about how birds build their homes. Our nest definitely doesn't look very authentic, but we found it fun. Also, I'm not sure that there are any birds that lay pinkish orange eggs, but Riley enjoyed painting with those colors. Any time we're painting with another color, she is constantly saying something like, "How 'bout pink, Mommy?"
Riley knew about birds flying in the sky, but we reviewed that topic, as well. She had a great time gluing the cotton ball clouds on her blue construction paper. I don't think it's the most adorable craft in the world, but I'm finding that the cute activities aren't necessarily the ones Riley enjoys best... too bad for me.
My favorite craft this week was our handprint peacock. I was inspired by
this idea
, and we changed it up a little bit to suit our fancy. We mixed our colors, put handprints in a fan shape around the page, and used Riley's heel (and a little bit of her foot) to make the "body." Riley then used an eraser to make the colorful dots on the bird's feathers. The last step was adding a beak (scraps from earlier projects) and drawing legs and eyes.
The most difficult part of this project was getting a decent picture to share. Seventy-four pictures later (Thank the Lord for digital cameras!), we finally had a couple good ones. This one is my favorite blooper: "It's like a bib, Mommy!"
The schedule is looking less chaotic than it has in the past few weeks, so hopefully our little preschool will be back on track next week.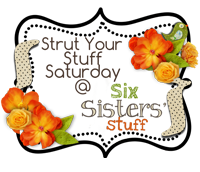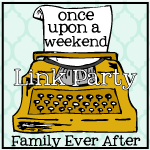 Saturday Show and Tell at Cheerios & Lattes
Saturday Show and Share at I Can Teach My Child